If you like the shooter games, Hasbro created
Nerf Toys
some time ago. These toys have many followers around the world. There are different guns, darts and accessories: Nerf N-Strike Elite, Rebelle (for girls), Zombie Strike, Dart Refills, masks, Tactical Vest Kit for Nerf, Hatchet, bullets...
Some Nerf Models you can
buy online
: Maverik, Barricade, Recon, Raider, Longstrike, Vulcan and more.
Make teams and enjoy this outdoor game with your friends and family. Great for birthdays or Christmas.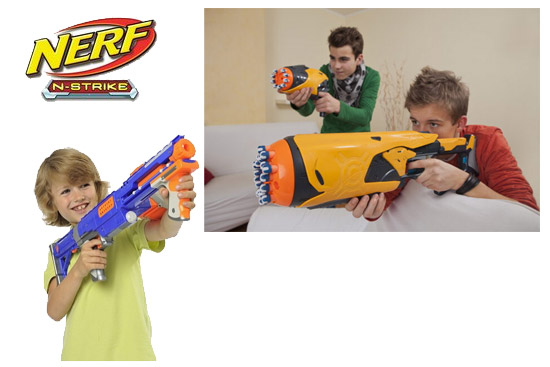 (Prices were updated today at 04:22:19 (-0400 UTC).
More information
)
Click on the "Buy Now" button in order to go to Amazon:
Nerf N-Strike Modulus ECS-10 Blaster - Price: $89.92
Dimensions: 1500 x 299 x 3000in Weight: 247 oz
Nerf CS-18 N-Strike Elite Rapidstrike (Colors may vary) - Price: $98.98
Dimensions: 1276 x 402 x 2449in
Nerf N-Strike Elite Retaliator (Colors may vary) - Price: $48.99
Dimensions: 1224 x 343 x 1937in Weight: 250 oz
Nerf N-Strike Elite Tactical Vest Kit - Price: $22.00
Dimensions: 1500 x 299 x 1402in Weight: 124 oz
Lot 100 Pcs 7.2cm Blue Foam Darts for Blasters Toy Gun - Price: $3.99
Dimensions: 250 x 660 x 550in Weight: 30 oz
Nerf 36033F01 N-Strike Elite Strongarm Blaster - Price: $9.80
Dimensions: 0 x 0 x 295in Weight: 105 oz
Nerf Zombie Strike FlipFury Blaster - Price: $9.97
Dimensions: 1098 x 299 x 1500in Weight: 195 oz
Nerf N-Strike Elite Triad EX-3 Blaster (Colors may vary) - Price: $3.49
Weight: 0.37 oz
Nerf N-Strike Elite Rayven Cs-18 Blaster - Price: $169.99
Weight: 220 oz
Nerf N-Strike Elite Rhino-Fire Blaster - Price: $99.99
Dimensions: 1587 x 587 x 3382in Weight: 600 oz
Nerf Zombie Strike SlingFire Blaster - Price: $34.99
Dimensions: 2650 x 201 x 752in Weight: 225 oz
Nerf Zombie Strike Hammershot Blaster - Price: $15.95
Dimensions: 1276 x 287 x 701in Weight: 74 oz
Nerf N-Strike Elite Rampage - Price: $32.99
Dimensions: 1343 x 445 x 2130in Weight: 18 oz
Star Wars Nerf Episode VII First Order Stormtrooper Deluxe Blaster - Price: $49.99
Dimensions: 1201 x 287 x 2402in Weight: 238 oz
Nerf N-Strike Elite Spectre Rev-5 Stealth Blaster - Price: $43.97
Dimensions: 400 x 1800 x 1200in Weight: 175 oz
Nerf Rival Zeus MXV-1200 Blaster (Red) - Price: $47.54
Dimensions: 1000 x 299 x 2449in Weight: 147 oz
Nerf N-Strike Elite SlingStrike Slingshot - Price: $16.92
Dimensions: 819 x 221 x 1051in Weight: 68 oz
Nerf N-Strike Mega Series RotoFury Blaster - Price: $54.23
Dimensions: 1201 x 461 x 2551in Weight: 300 oz
Nerf Red Dot Sight - Price: $21.83
Dimensions: 650 x 350 x 449in
Nerf N-Strike Elite Jolt Blaster (Orange) - Price: $5.29
Dimensions: 650 x 126 x 598in Weight: 5 oz
Nerf Rival Apollo XV-700 (Blue) - Price: $35.99
Dimensions: 1000 x 299 x 1799in Weight: 209 oz
Star Wars Nerf Episode VII Chewbacca Bowcaster - Price: $26.99
Dimensions: 1201 x 252 x 1598in Weight: 122 oz
Nerf Zombie Strike Doominator Blaster - Price: $38.89
Dimensions: 1098 x 2563 x 870in Weight: 142 oz
Nerf N-Strike Mega Centurion - Price: $99.99
Dimensions: 1476 x 402 x 3000in
Nerf Zombie Strike Sledgefire Blaster - Price: $83.51
Dimensions: 1098 x 252 x 2524in Weight: 251 oz
Nerf N-Strike Elite Precision Target Set - Price: $16.75
Dimensions: 1126 x 201 x 2063in Weight: 120 oz
Nerf N-Strike Longstrike CS-6 Dart Blaster - Price: $499.95
Dimensions: 1250 x 400 x 2400in Weight: 403 oz
Nerf Modulus Long Range Upgrade Kit - Price: $13.89
Dimensions: 1098 x 236 x 1500in Weight: 115 oz
Nerf N-Strike Elite Dart Refill Pack (30 Darts) - Price: $6.96
Dimensions: 598 x 158 x 626in Weight: 2 oz
Nerf Modulus Stealth Ops Upgrade Kit - Price: $13.97
Dimensions: 1098 x 213 x 1500in Weight: 89 oz
Star Wars Nerf Episode VII First Order Stormtrooper Blaster - Price: $33.99
Dimensions: 776 x 189 x 937in Weight: 63 oz
Nerf Modulus Flip Clip Upgrade Kit - Price: $14.99
Dimensions: 1098 x 224 x 1500in Weight: 90 oz
N-Strike Elite 18-Dart Quick Reload Clip - Price: $4.98
Dimensions: 1299 x 134 x 902in Weight: 20 oz
N-Strike Elite Bandolier Kit - Price: $9.99
Dimensions: 752 x 224 x 850in Weight: 70 oz
Nerf Modulus Strike and Defend Upgrade Kit - Price: $10.49
Dimensions: 1098 x 236 x 1500in
Nerf Lazer Tag Phoenix LTX Tagger 2-Pack - Price: $63.93
Dimensions: 437 x 1213 x 1488in
Nerf Rival Face Mask (Blue) - Price: $15.26
Dimensions: 976 x 319 x 811in Weight: 29 oz
Nerf Combat Creatures TerraDrone - Price: $149.99
Dimensions: 1402 x 638 x 1276in Weight: 379 oz
Nerf Zombie Strike Dart Refill Pack - Price: $8.67
Dimensions: 598 x 173 x 626in Weight: 35 oz
Nerf N-Strike Longshot CS-6 Longest - Price: $84.87
Dimensions: 3400 x 400 x 800in Weight: 450 oz
Nerf N-Strike SharpFire Blaster - Price: $6.84
Dimensions: 850 x 224 x 2402in Weight: 118 oz
Nerf Zombie Strike CS-12 Longshot - Price: $49.99
Dimensions: 1402 x 319 x 2752in Weight: 350 oz
Nerf Rival Apollo XV-700 (Red) - Price: $15.50
Dimensions: 1000 x 299 x 1799in Weight: 98 oz
Nerf N-Strike Thunderblast Launcher - Price: $48.97
Dimensions: 1252 x 319 x 2461in Weight: 220 oz
Nerf Doomlands 2169 Lawbringer - Price: $79.99
Dimensions: x x in
Nerf Rival Zeus MXV-1200 Blaster (Blue) - Price: $48.61
Dimensions: 1000 x 299 x 2449in Weight: 147 oz
Nerf Walkie Talkies - Price: $7.51
Dimensions: 200 x 800 x 1150in Weight: 70 oz
Nerf N-Strike Elite Retaliator Value Pack - Price: $59.99
Dimensions: 1146 x 268 x 1886in Weight: 265 oz
Nerf N-Strike Elite CrossBolt Blaster - Price: $18.99
Dimensions: 1000 x 268 x 1850in Weight: 215 oz
Nerf Doomlands 2169 Vagabond - Price: $24.50
Dimensions: x x in
Nerf N-Strike Elite Nerf Cam ECS-12 Blaster - Price: $64.50
Dimensions: 1201 x 319 x 2701in Weight: 415 oz
Nerf N-strike Elite Stockade Exclusive - Price: $69.95
Dimensions: 200 x 2400 x 600in
Nerf N-Strike Stampede ECS - Price: $149.99
Dimensions: 1500 x 449 x 3000in Weight: 551 oz
Nerf N-Strike Elite Mega Dart Refill Playset (20-Pack) - Price: $5.90
Dimensions: 724 x 161 x 850in Weight: 15 oz
Nerf N-Strike Elite Hail-Fire Blaster - Price: $89.99
Dimensions: 1299 x 449 x 2299in Weight: 375 oz
Marvel Guardians of The Galaxy Star-Lord Quad Blaster - Price: $193.99
Dimensions: 1098 x 252 x 1201in Weight: 300 oz
Nerf N-Strike Elite Mega Magnus Blaster - Price: $25.98
Dimensions: 902 x 268 x 1350in Weight: 137 oz
Nerf N-Strike Elite Rapidstrike CS-18 Blaster Special Value Pack - Price: $189.99
Dimensions: 1201 x 350 x 2402in Weight: 38500 oz
Nerf Zombie Strike Target Set - Price: $5.25
Dimensions: 925 x 173 x 1051in Weight: 11 oz
Nerf Modulus 10-Dart Banana Clip - Price: $8.34
Dimensions: 1098 x 299 x 512in Weight: 25 oz
Nerf Rebelle Agent Bow Blaster with purple arrows - Price: $40.99
Dimensions: 1224 x 252 x 3000in Weight: 150 oz
Nerf Rival Face Mask (Red) - Price: $14.99
Dimensions: 976 x 319 x 811in Weight: 55 oz
Nerf N-Strike Elite: Stryfe Blaster, Colors may Vary - Price: $39.51
Weight: 725.7 oz
Nerf Rival 12-Round Magazine - Price: $3.90
Dimensions: 1374 x 173 x 626in Weight: 44 oz
Nerf N-Strike Elite Vision Gear Toy - Colors May Vary - Price: $8.95
Dimensions: 850 x 213 x 650in Weight: 9 oz
Star Wars Rebels Stormtrooper Blaster - Price: $89.50
Dimensions: 799 x 276 x 1252in Weight: 110 oz
Nerf N-Strike Elite 75-Dart Refill - Price: $11.99
Dimensions: 1150 x 221 x 874in Weight: 40 oz
YK Night Hawk M16+ Spring Powered Toy Foam Dart & Water Polymer Ball Shooting Gun w/ Gun, 10 Suction Darts, Clear Water - Price: $19.95
Dimensions: 300 x 2220 x 1170in Weight: 200 oz
Nerf Pro Shop Mini Sports Pack - Price: $14.99
Dimensions: 1460 x 890 x 3560in Weight: 60 oz
Nerf Rebelle Agent Bow Blaster Pink Deco - Price: $72.22
Dimensions: 1224 x 252 x 3000in
Nerf Lazer Tag Blasters Orange & White Team Pack Gift Set Bundle - 4 Pack - Price: $299.00
Dimensions: 1150 x 1800 x 250in Weight: 200 oz
Nerf N-Strike Elite Universal Suction Darts, 30-Pack - Price: $10.00
Dimensions: 598 x 173 x 626in Weight: 7 oz
Nerf Rebelle Pink Crush Blaster - Price: $99.00
Dimensions: 752 x 201 x 1051in Weight: 55 oz
Nerf Zombie (NERFP) Nerf Zombie Chainsaw Toy - Price: $39.99
Dimensions: 1713 x 256 x 500in Weight: 25 oz
Nerf N-Strike SnapFire Blaster - Price: $6.99
Dimensions: 650 x 173 x 724in Weight: 2 oz
NERF N-Strike Elite Sonic Ice Series Retaliator Blaster - Price: $36.41
Dimensions: x x in
Nerf Rebelle Dart Refill Pack - Price: $2.99
Dimensions: 799 x 118 x 646in Weight: 17 oz